We need your help! Van Buren Middle School is happy to announce their partnership with our local chapter of Project Linus through our Textiles course! The class of 8th grade students will be crafting homemade blankets to donate to this wonderful organization that supports many children in our area, as they work to learn basic sewing techniques. To make this a success… WE NEED FABRIC! Please considering donating to this great cause, as our students work hard to help others. We are specifically looking for fleece fabric in sections that are 35inx35in or greater in size. Donations can be dropped off to the middle school office. Thank you in advance for your support! For more information about this organization, please visit
https://www.projectlinus.org/
#BeABlackKnight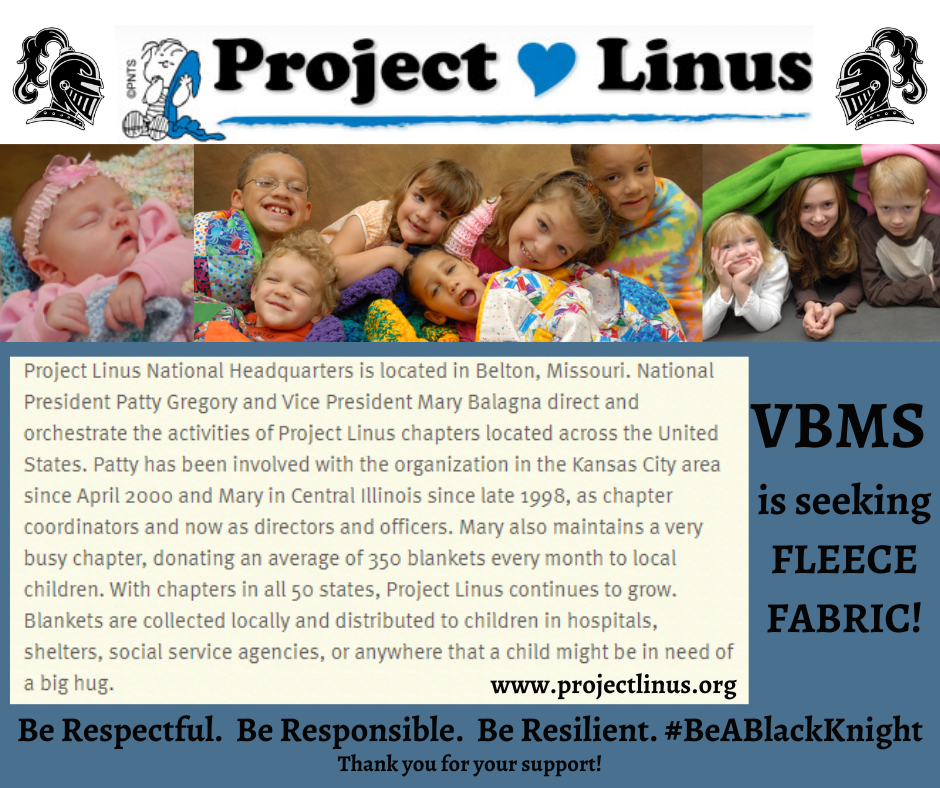 Due to food shortages, there is a menu change for Friday in the elementary school cafeteria. The menu will be: Sausage, egg, and cheese biscuit Choice of cereal, assorted granola bars, or breakfast crackers Orange Juice Fruit Milk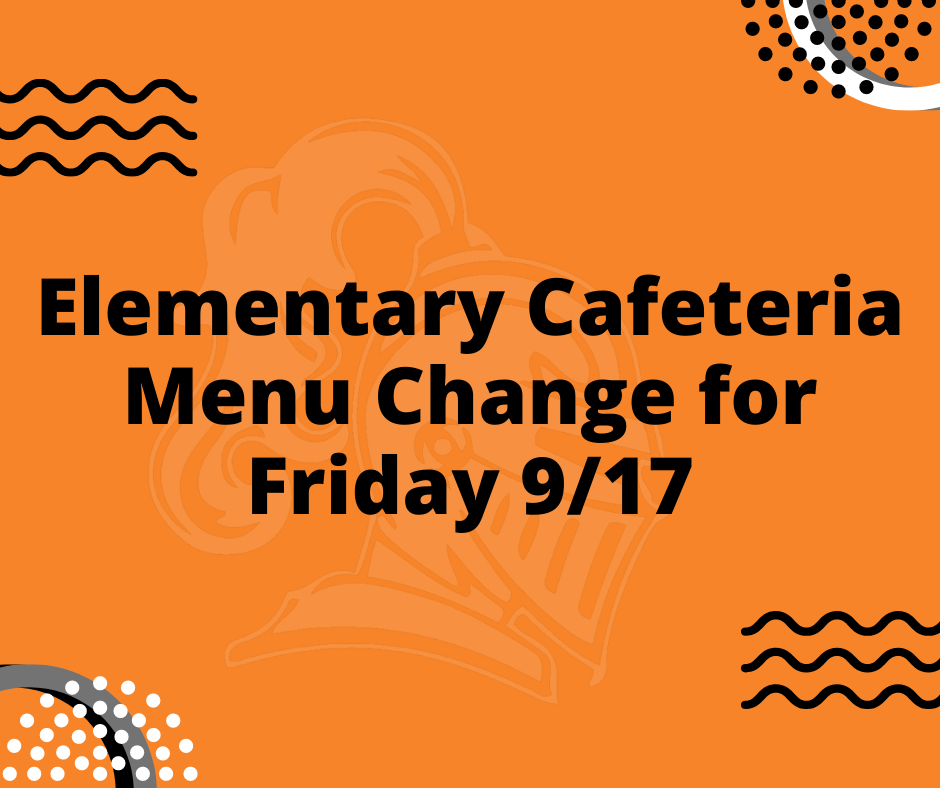 Bus numbers 2,7,10 and 12 are running around 20 minutes late due to a stopped train. To stop receiving all text messages from Van Buren Local Schools (including delay and cancellation updates) reply STOP. Thanks

It's been far too long since we have been able to have an in person pep rally! On Friday afternoon, we had a beautiful day to bring our staff and students together to build some school spirit! #BeABlackKnight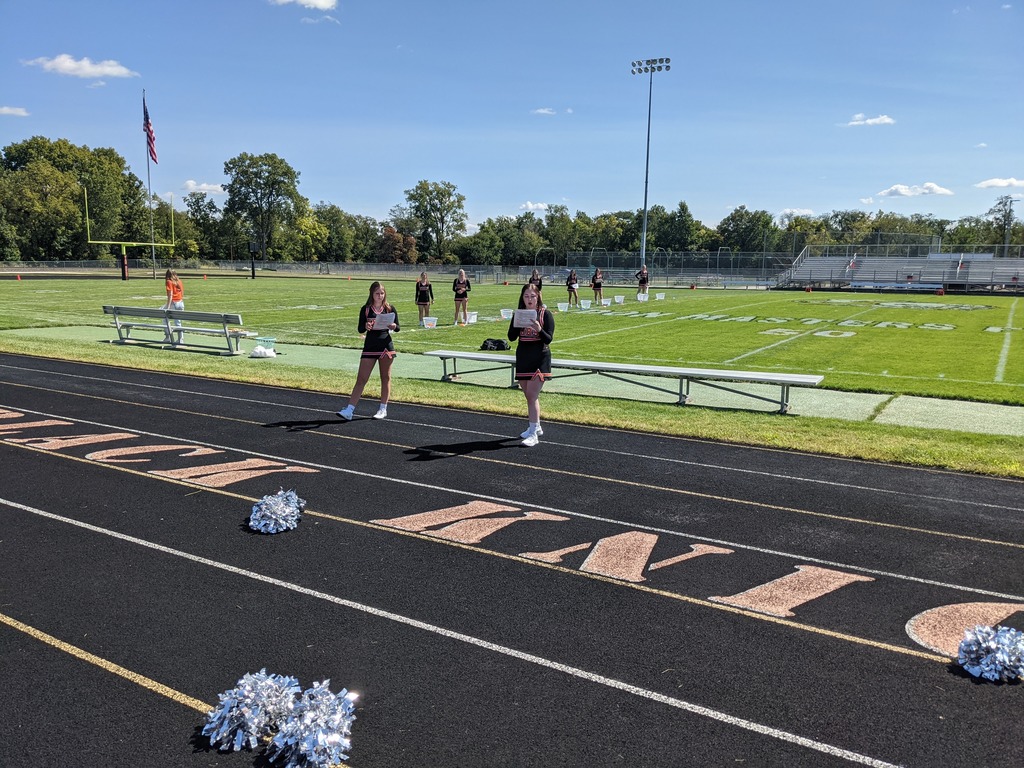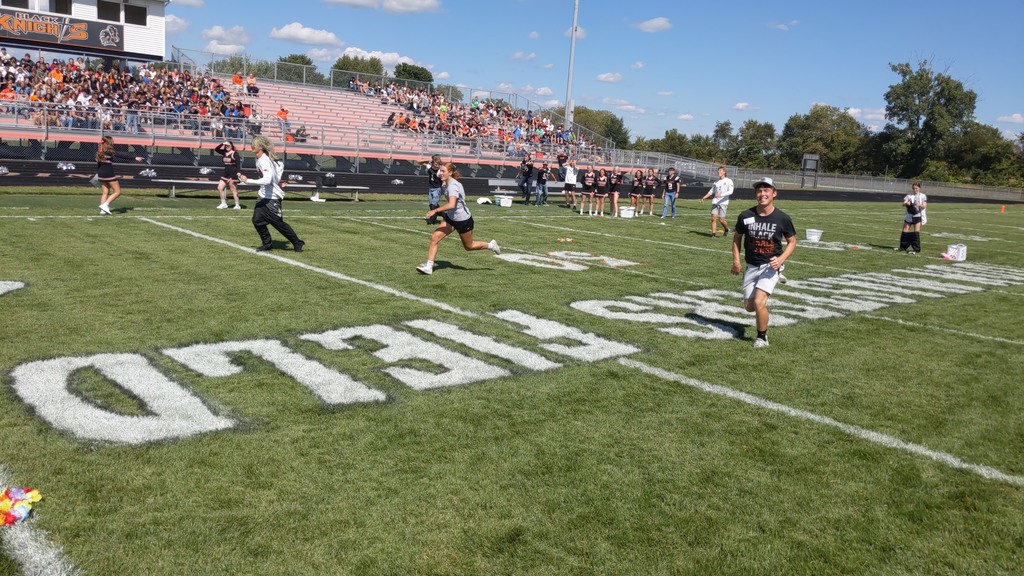 Happy Monday! Episode 26 of The Interviewing People Careercast features 2002 Van Buren graduate John Drerup, the Garment Wash and Fabric Manager for Target in Minneapolis, MN. In the interview, John discusses what his job entails, what it is like to work for a large company like Target, the role travel plays in his career, what he has learned about relationships from his career, and much more. Anyone interested in fashion and science-related careers will find information relevant to getting started down those paths in this episode. To access John's interview and others, visit
www.bit.ly/InterviewingPeople
. Enjoy the show!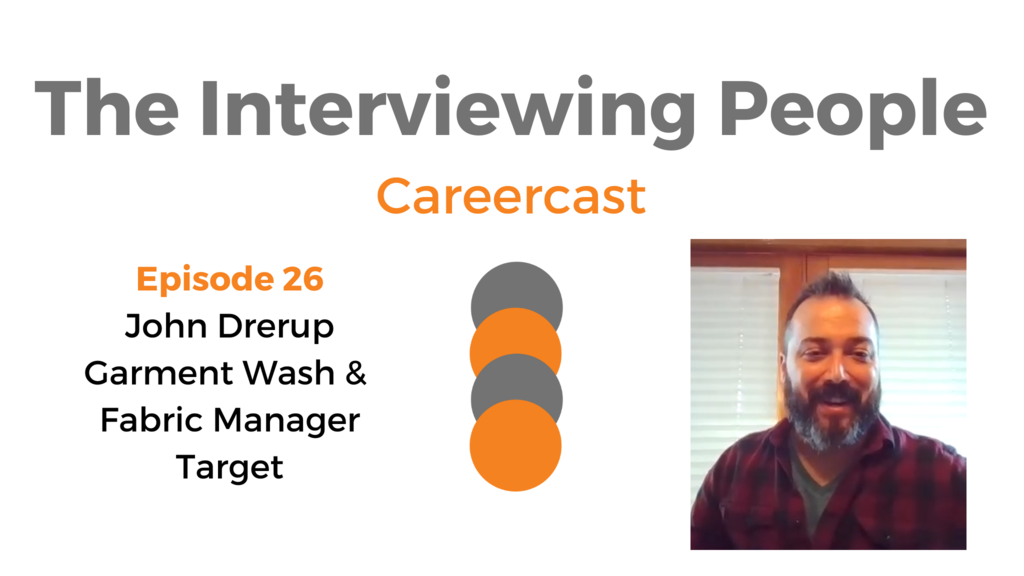 The Findlay-Hancock County Public Library Bookmobile will be at Van Buren on Monday, September 13, from 11:30 A.M. - 12:30 P.M. Middle and high school students can visit the bookmobile during their lunch periods, so if students have a FHCPL card, please be sure they have their cards September 13 so they can check out books. Students can also place holds on books using the FHCPL website (
www.findlaylibrary.org
) and pick those up on the bookmobile as long as they identify the bookmobile as the pick-up location (they still need to have their library cards with them). Students who don't have library cards can visit the library in Findlay (206 Broadway St.) to register for a card. Parents must be present with their children and have two forms of identification (one must be a photo ID). The bookmobile will also be making stops at the school from 11:30 A.M. - 12:30 P.M. on September 27, October 11 & 25, November 8 & 22, and December 6.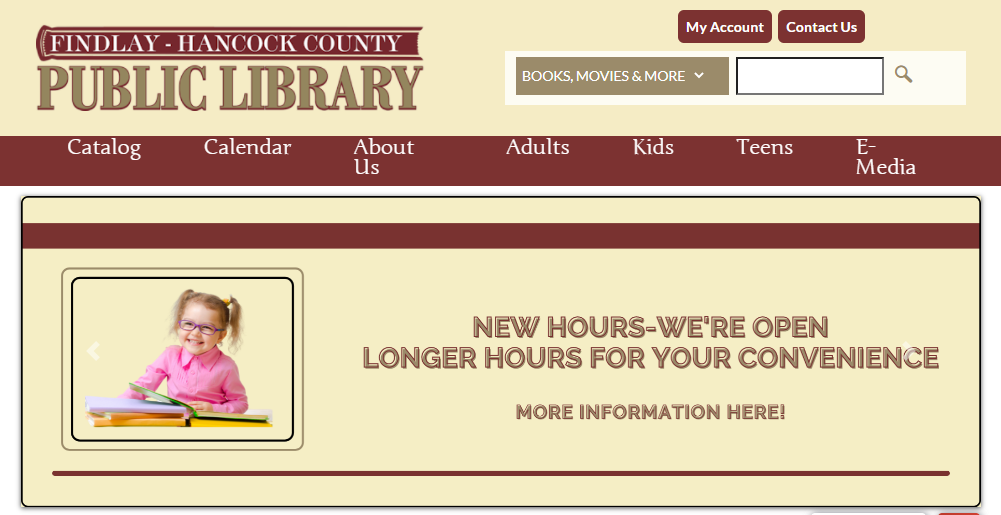 Good Saturday to all of you. I am sending a link for a video of the commons project that is complete. The students, staff and community seem to be enjoying this space. Have a great weekend.
https://youtu.be/NGZeRcAdai8

As high school and middle school students entered the building for the first day of school on Tuesday, they were able to enjoy the newly renovated high school/middle school cafeteria, or what we are now calling the Van Buren Commons! #BeABlackKnight
https://youtu.be/NGZeRcAdai8

Good Evening! Great second day at VB! Student pick up was significantly better this afternoon. Tomorrow (pick up only) will be different again to try and improve our process. Mrs. Barrett, Mr. Shoup, Mr. Newcomer, Deputy Crouch and I will be out in the parking lot area to help move the cars to the appropriate locations. In the am, the process will be the same. However, please do not arrive before 7:30. If you do, please make sure you park in the parking lot and please do not block the drop off lanes. See you all tomorrow! Have a great evening.

Yesterday our middle school staff shared a very important message with our students as they welcomed them back for the 2021-22 school year! Check out their video here:
https://bit.ly/VBMS2021
#BeABlackKnight

Good Evening! All in all day one at VB was awesome. For the parents that picked up your kids at dismissal, that was a rough one. We tried something new and it did not work very well. We have made some subtle adjustments to see if tomorrow will be better. I have finally seen what many of you have told me all along! There are way to many cars for the amount of parking places and blacktop in the parking lot. We will continue to evaluate and try things to improve the pick up process. Thank you for your patience and understanding.

The buses are running about 15 minutes!

Van Buren Elementary started the year by reviewing our PBIS expectations of Being Respectful, Responsible, and Resilient! Since we are changing from the phrase Be Safe to Be Resilient, we talked to students about what the word resilient meant with a game of bounce or splat...with real eggs! #BeABlackKnight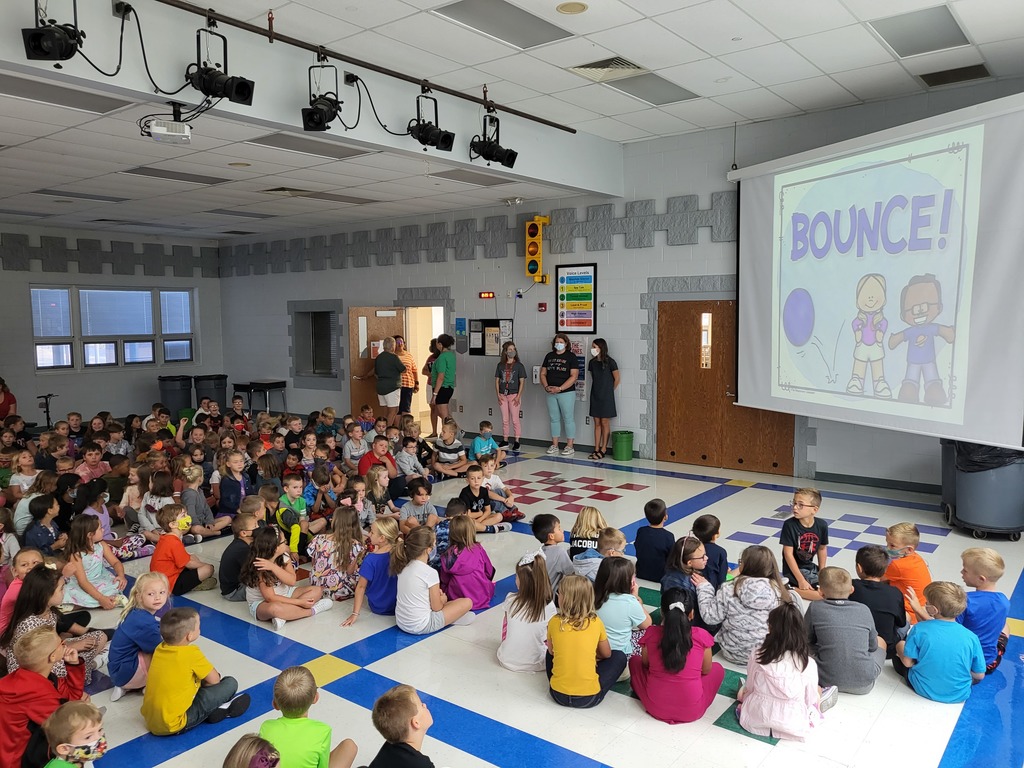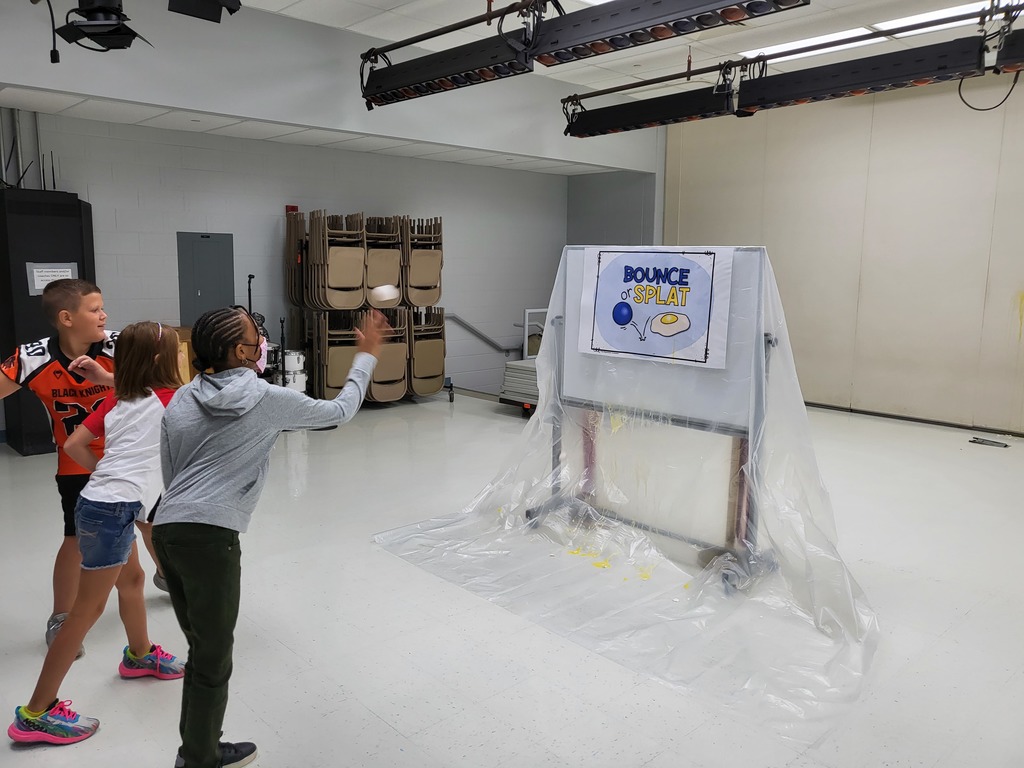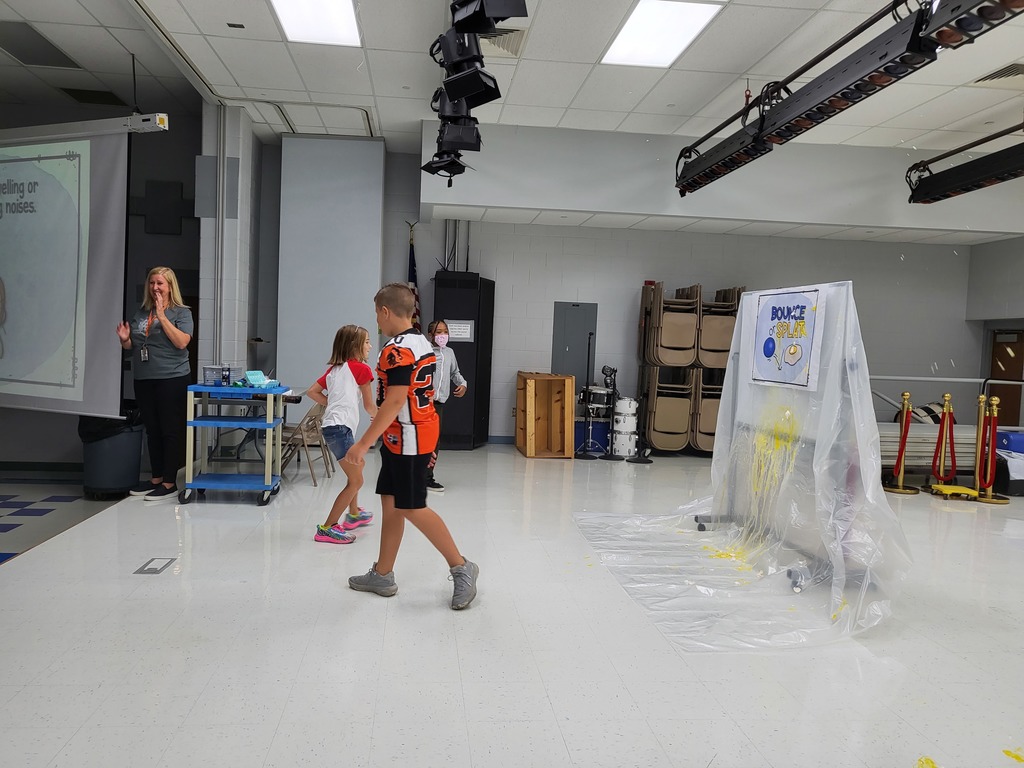 Good Afternoon! This message is for our parents who pick their children up in the afternoon from the elementary school. There will be staff in the loop (where you drop your students in the am) that will guide you where to park. The goal is to try and limit how many cars are in the high school parking lot. Students will start leaving the elementary at 2:50. Our goal is to have your children to you and you in your cars leaving before 3:05. Why 3:05? That is when the High School and Middle School will be dismissed. Deputy Crouch will be at the light to try and get cars out of the parking lot in a more efficient way. It is the first time trying this and we will get better as the year goes on. It has been a great day at VB!

VB Schools: Good Labor Day Afternoon! I want to wish everyone a great first day of school. Tomorrow will be the first full day of school since March 13, 2020. Please be patient this week as we work out all the little details of arrival, dismissal, parent pick up, and everything else associated with the first week of school. As all of you know, schools have been thrust into the center of to mask or not to mask. Van Buren Schools is not attempting to make any political statement about our current guideline of allowing parents to choose to mask or not. Van Buren staff only wants to educate the students we are responsible for educating. We are all educators who want to teach the kids! All this debate on masks has been very challenging for staff who are not in the business of being health care professionals! Our goal is to have the students at Van Buren in school five days a week for 180 days this 2021-22 school year. I ask you to keep your kids at home if they are sick and we as a staff will do the same if we are sick. The only promise I can make is that Van Buren staff will continue to communicate pertinent information. I hope all of you enjoy your last few hours of summer! The Van Buren Staff looks forward to seeing all the students tomorrow.
Happy Monday! The latest ten-minute highlights of The Interviewing People Careercast feature 2014 graduate Colin Causey. In the highlights, Colin focuses on his choice to double major in computer science and philosophy, his internship at Argonne National Laboratory, his first post-college job at Oak Ridge National Laboratory, the role communication has played in his career, and much more. To access this episode and others, visit bit.ly/InterviewingPeople, and enjoy the show!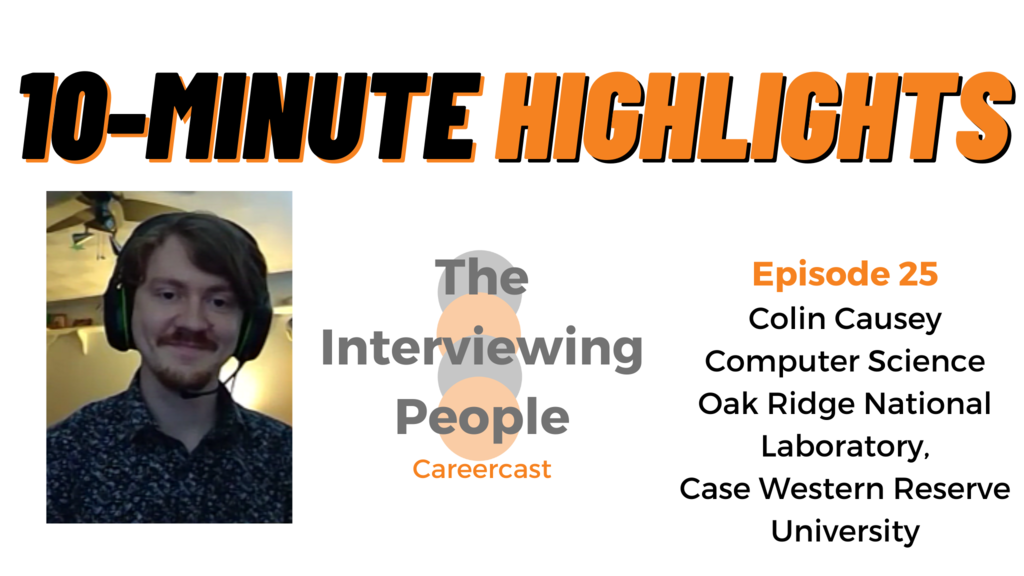 The text messaging platform our district has used in the past (Ohio Alerts) has been discontinued. Please sign up here to continue receiving alerts for school delays, closings, emergency information, and updates!
https://forms.gle/kMUaH3r1pi75anyG6
PARENTS - As long as your contact information has been updated in FinalForms, your information has already been entered in our system. Please do not complete the form. Instead, please make sure all forms in FinalForms are up-to-date. If you have questions regarding communication, please contact Cassie Schaffer at
cschaffer@vbschools.net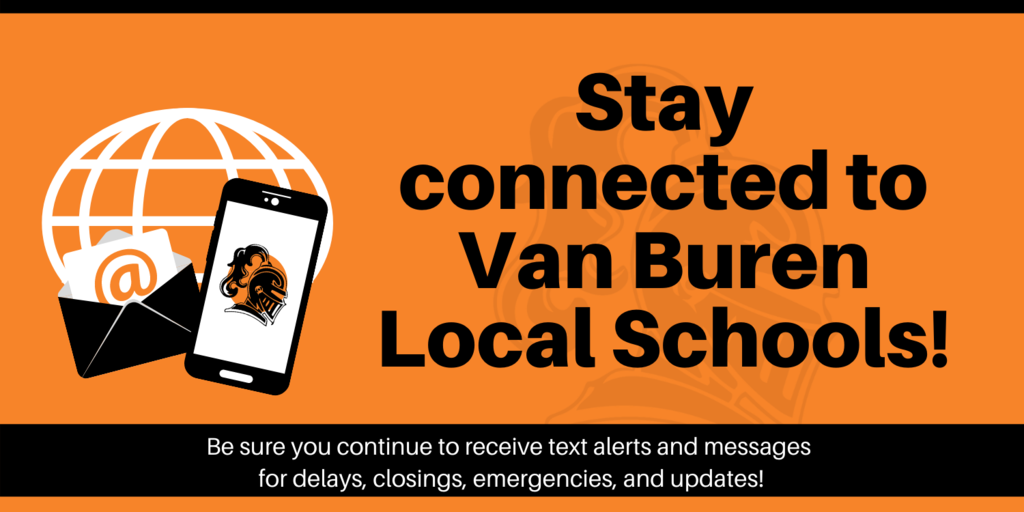 The Career Scoop, the career newsletter of Van Buren Schools, is back with more information about what Van Buren graduates are doing, what opportunities there are for current students, and much more. To read both the current and past editions, please visit bit.ly/CareerScoop.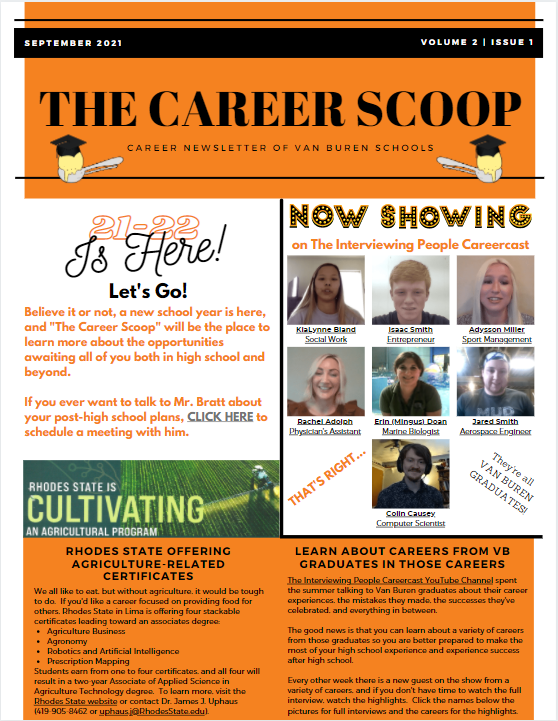 We have many students involved in various activities and showing at the Hancock County Fair this weekend. Please come out and show your support! While in attendance, please consider supporting our Van Buren Music Boosters by stopping by their tent and purchasing a tasty treat!

Thank you for coming to Opening Knight last evening! We loved welcoming our families back into the buildings (especially Apollo!). Just a reminder for those that weren't able to make it last night, you can pick up or drop off materials from 2:00 - 5:00 PM today. We can't wait to see you on the 1st day of school on Tuesday! #BeABlackKnight