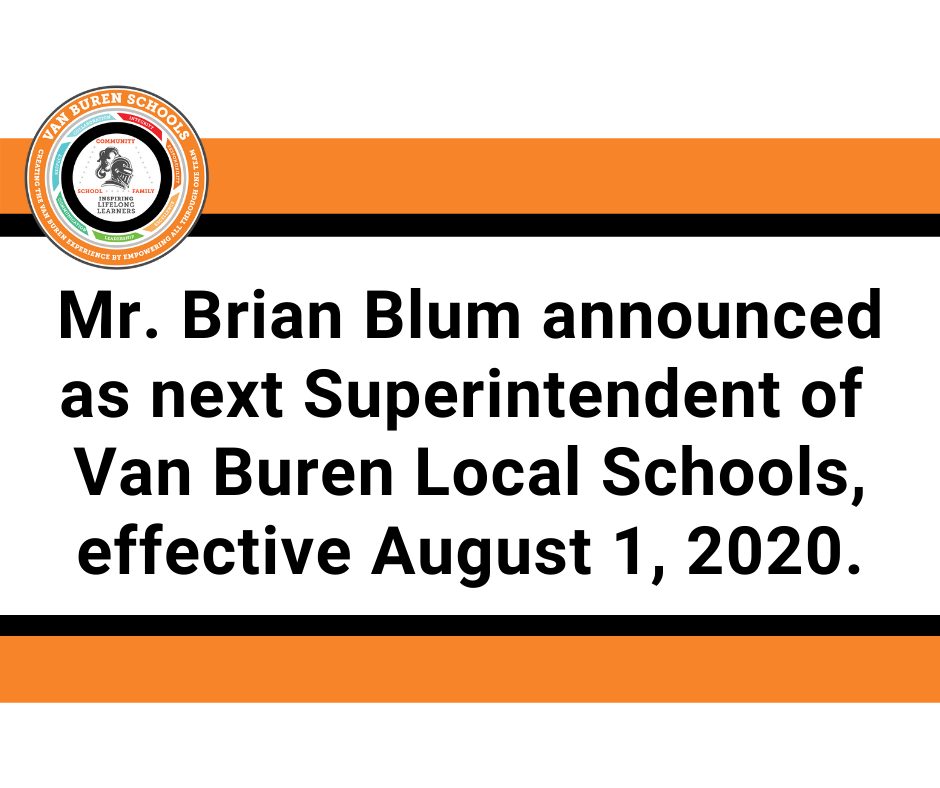 Mr. Brian Blum Named Next Superintendent, Effective August 1, 2020
Van Buren Schools
Wednesday, March 18, 2020
The Van Buren Board of Education plans to approve a three-year contract to employ Brian Blum as their next Superintendent, effective August 1, 2020. Mr. Blum is currently the Executive Director of Instructional Services for Northridge Local Schools in Licking County. His duties at Northridge includes activities normally addressed by an Assistant Superintendent. He will replace the retiring, Tim Myers, who has served the Van Buren school district as superintendent for the past 16 years.
The Board of Education initiated a superintendent search in January 2020. The Board received assistance in the process from K-12 Business Consulting, Inc., a superintendent search firm.
After developing a superintendent profile that was based on input received during seven (7) staff/community focus group sessions and from survey responses from 107 parents and community members, teachers, administrators, support staff members and students, the Board reviewed the credentials of 20 applicants, many of whom were recruited.
Board interviews with eight semi-final candidates were conducted on February 25 and 26. On March 4th 3 candidates were invited back for second round interviews. Before the Board interviews a committee of around 45 citizens and district employees had the opportunity to ask each candidate questions during a Meet and Greet session. Participants then offered feedback on each candidate to the Board.
Michael Leifheit, the Board President, stated "On behalf of the Van Buren Board of Education, I am excited to welcome Brian Blum as the next Superintendent of the Van Buren Schools. This has been a very difficult decision, due to the quality of our applicants. In collaboration with the input we received from our community participants, teachers, staff, and Administrative team, we are confident Brian's passion for learning and his dedication to maximizing every student's success will serve our district well. His success as an administrative leader represents his commitment to establishing a strong vision and direction for the Van Buren Schools. We look forward to working with Brian Blum as we continue our quest, Creating the Van Buren Experience by empowering all through one team."


Brian Blum has a rich history of educational leadership experiences. He has served the
Northridge Local Schools for three years. He began his career as the Primary School Principal then became the Director of Special Education Services. He comes to Van Buren from the position of Executive Director of Instructional Services for Northridge Local Schools. Mr. Blum has also served as the principal in a variety of settings.


He has served as a member/leader in the Northridge district levy committee team which passed an operating levy, bond, and permanent improvement levy during the 2018-2019 school year. He also served as a member of the district core construction team to assist in the construction of a new elementary school and increment and decrement lists for the permanent improvement levy.


Mr. Blum is a 1994 graduate of Wright State University with a Bachelor Degree in Special
Education. He then earned a Master of Education from Ashland University in 1997. He
completed his superintendent licensure program through Miami University in 2017.
Brian and his wife, Stacey, reside in Granville, Ohio, but look forward to becoming part of the
Van Buren community as soon as possible. They are the proud parents of two children, Sam and Simon, who attend The Ohio State University.


"I am extremely honored to have been selected as the next superintendent of Van Buren Local Schools," Mr. Blum stated. "Van Buren has a long tradition of excellence and I am looking forward to the opportunity of working collaboratively to take an already great school district to even higher levels."