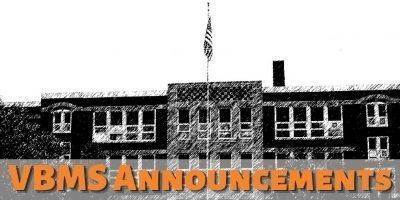 VBMS Daily Announcements 10/15/2020
Cheryl Gephart
Thursday, October 15, 2020
Your Van Buren Middle School Daily Announcements for Thursday, October 15, 2020.
Thursday
During the gold rush, a man who had been mining in Colorado for several months quit his job, as he hadn't struck gold yet and the work was becoming tiresome. He sold his equipment to another man who resumed mining where it had been left off. The new miner was advised by his engineer that there was gold only three feet away from where the first miner stopped digging. The engineer was right, which means the first miner was a mere three feet away from striking gold before he quit. The Moral: When things start to get hard, try to persevere through the adversity. Many people give up on following their dreams because the work becomes too difficult, tedious, or tiresome–but often, you're closer to the finish line than you may think, and if you push just a little harder, you will succeed.
THIS WEEK @ VBMS:
Thursday 10/15: Group B on campus, VB@ Donnell (4:30 pm), FB vs. McComb (5pm)
Friday 10/16: Group B on campus
Saturday 10/17: XC @ BVC Championships (9am)
LUNCH TODAY:
Cheesy Beef Quesadilla, Mexican Rice, Refried Beans, Asst. Fruit, Milk
All students are eligible to receive free school lunches (a regular lunch) as a result of the federal school lunch program waiver made possible through the CARES act. Additionally, any students purchasing a regular school lunch since the start of the school year will have that lunch cost refunded to their lunch account in the coming weeks.
7th and 8th graders ONLY: Power of the Pen is a competitive writing team coached by Mrs. Dishong (kdishong@vbschools.net). If you have strong writing skills and would like to try out, please complete this form by Friday, October 30, 2020!
Friends of Rachel is back for the 2020-2021 school year! 7th and 8th graders who were a part of the club last year should look for an email from Mr. Hafner with information regarding this year. Old and new members will be required to complete the application linked with the email. If you would like to join Friends of Rachel or have any questions please email Mr. Hafner (bhafner@vbschools.net)
Calling all science lovers! Science Olympiad is gearing up to start the 2020-21 season! If you are interested in applying to join the team, please complete the form found here. Science Olympiad is open to all middle school students interested in chemistry, space, biology, physics, and more! Questions? Email Mrs. Hosler (mhosler@vbschools.net)
Student & Staff pictures will be taken on Tuesday, October 20th. Picture packets are available outside the office. Parents may order pictures before Picture Day online at mylifetouch.com using our Picture Day ID: EVT4GFZBK. All students will be photographed regardless if pictures are being purchased. Students not at school on October 20th will be photographed on Tuesday, October 27th.
Click HERE for the HYBRID CALENDAR
Follow VBMS on Facebook and Twitter: @VanBurenMS
#VB1Team #VBexperience #seizethedayVBMS